Where can I park?
There is street parking in front of the brewery on Venables St. We also have a parking lot on the east side of the building that you can enter on Union Street.
Where can I park my bike?
There are bike racks in front of the brewery and additional spots in our parking lot on the east side of the building.
How can I get to the brewery with public transportation?
The number 22 bus stops right in front of the brewery from either direction.
Are kids allowed in the tasting room?
Yes they are! As long as they are accompanied by an adult. We have non-alcoholic drinks and a bucket of books and crayons.
Are dogs allowed in the tasting room?
Dogs are unfortunately not allowed in the tasting room or on the patio. 
Do you take reservations?
Yes, we accept a limited number of reservations. Please call 604-255-4997 to reserve a table.
For larger groups and special occasions please contact info@luppolobrewing.ca. Please note that we do not do buyouts.
Is outside food allowed?
No, sorry. Now that we have a full menu of delicious pizza we no longer allow outside food in the tasting room.
Do you have other types of drinks aside from beer or gluten free options?
We have a wide variety of drinks including kombucha, Italian sodas, coffee, and ginger beer. For those who are looking for alcoholic gluten free options, we have a rotating selection of Italian red or white wine and rotating local cider.
Do you fill growlers from other breweries?
Sure do! We'll fill any 1L and 2L growlers. We'll also fill 500ml growlers if you have your own cap.
How long do growlers last?
If a growler is closed it will last around a week. However, once opened, it should be consumed within a day.
How should I clean my growler?
Once you empty your growler you should give it a good rise with hot water. There is no need to use soap. Let your growler air dry with the cap off.
Do you sell packaged product to liquor stores?
We sell a limited amount of packaged product to select liquor stores throughout the Lower Mainland, Vancouver Island, the Okanagan, and Squamish/Whistler. Please check our stockist page for specific locations.
Do you sell kegs for private parties?
Yes we do depending on stock. Usually beer that is available for growler fills is also available for keg sales. We also rent pouring equipment such as hand pumps and jockey boxes. For more info, you can check our keg info section.
Do you sell gift certificates?
We do. Gift certificates are available for purchase in the tasting room.
What type of payment do you accept?
Cash, credit card (Visa, MasterCard, AmEx), debit, and gift cards.
Luppolo Brewing Co. is owned and operated by two couples: Eleanor Stewart and Ryan Parfitt, and Anique Ross and Federico (Fede) Stucchi. Ryan, Anique and Eleanor were born and raised in Vancouver and Anique and Eleanor have been friends for over twenty years.
Eleanor and Ryan both have large, close-knit families and understand the value of community. Ryan's mother is Italian, and almost every Sunday they can be found enjoying a traditional family meal at her home in East Vancouver. Ryan has been brewing beer for over nine years and has a passion for sharing his creations with friends and family. He is also an incredibly gifted craftsman who values the workmanship and artistry that goes into creating something with your own hands. Ryan is also Luppolo's head brewer.
Their love of beer and entertaining led to the dream of one day opening their own brewery and being part of BC's craft beer revolution.
Fede and Anique both spent years living and working abroad before meeting in Baku, Azerbaijan. Wherever they went good food, drinks, and company were always central to making a new place feel like home.
After Fede and Anique married in 2011, they moved to Milan, Italy where Fede grew up. Their favorite place in the entire city was a local microbrewery. While the beer was exceptional, the best part about the birrificio (brewery in Italian) was the atmosphere. It was small, dark, and cozy, and in warmer months there would be hundreds of patrons spilling out onto the street chatting and enjoying the summer evening. Fede and Anique spent many memorable nights there and dreamed of opening their own brewery that recreated the atmosphere of the birrificio.
When Fede and Anique moved back to Vancouver in 2013, the two couples spent many evenings (over beers) talking and dreaming of opening a brewery. They worked hard for a few years towards making this dream a reality and Luppolo Brewing opened it's doors in October 2016.
La Nostra Famiglia
_____
Brewing, Production and Delivery Team
La Nostra Famiglia
_____
Sales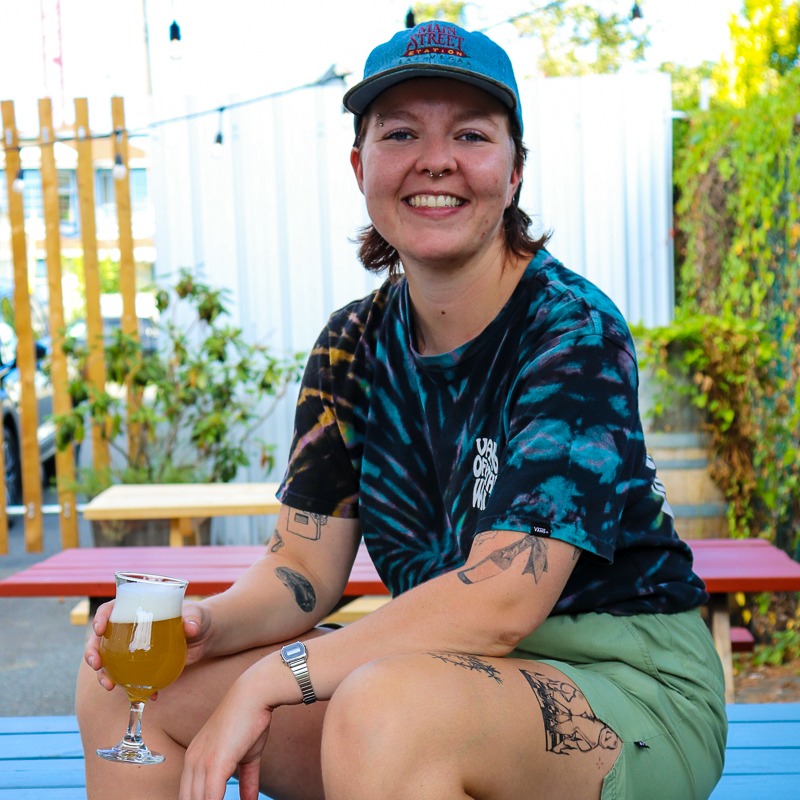 La Nostra Famiglia
_____
Social Media
La Nostra Famiglia
_____
Mordimi Bite of Italy 
La Nostra Famiglia
_____
Tasting Room Staff
Hours
Monday 4 - 10pm
Tuesday - Thursday 12 - 10pm
Friday & Saturday 12 - 11pm
Sunday 12 - 9pm
Online Orders Available
Anytime at Beervan.ca
For Home Delivery
(on hiatus until further notice)
Reach out!
604-255-4997
Wholesale or private sale inquiries?
Email: sales@luppolobrewing.ca
Address
Luppolo Brewing Company
1123 Venables St.
Vancouver, BC
Canada
V6A 2E3
Parking
Parking is available on Venables Street in front of the brewery or in the parking lot on the east side of the building that you can enter on Union Street.
Bike Parking
There are bike racks in front of the brewery and additional spots in our parking lot on the east side of the building.
Reservations
Would you like to reserve a table? Please contact us at info@luppolobrewing.ca or 604-255-4997.
Unfortunately, we do not accept reservations for the patio.